Petillo Shatters All Records
Event Raises $1.4 Million

More than 400 guests packed into the Crystal Plaza on October 23rd to honor Michael Petillo at the agency's Steps to Independence Celebration. The event was the most successful fundraising event in the more than 65-year history of the agency, raising more than $1.4 million.
"Mike really connected with our students and our mission," said Kelly Marx, longtime Pillar board member and a co-chair of the event. "And it showed in the months of hard work he invested to make this such a stellar event."
The overhead for the event was less than 7%, so more than 93% of the monies raised will support the agency's programs.
"While we raised a great deal of money from the event, it was about more than fundraising," said Clark Machemer, Vice Chair of Pillar's board and a co-chair of the event. "Mike helped us to connect with new friends in the community and those are relationships we hope to maintain for a long time to come."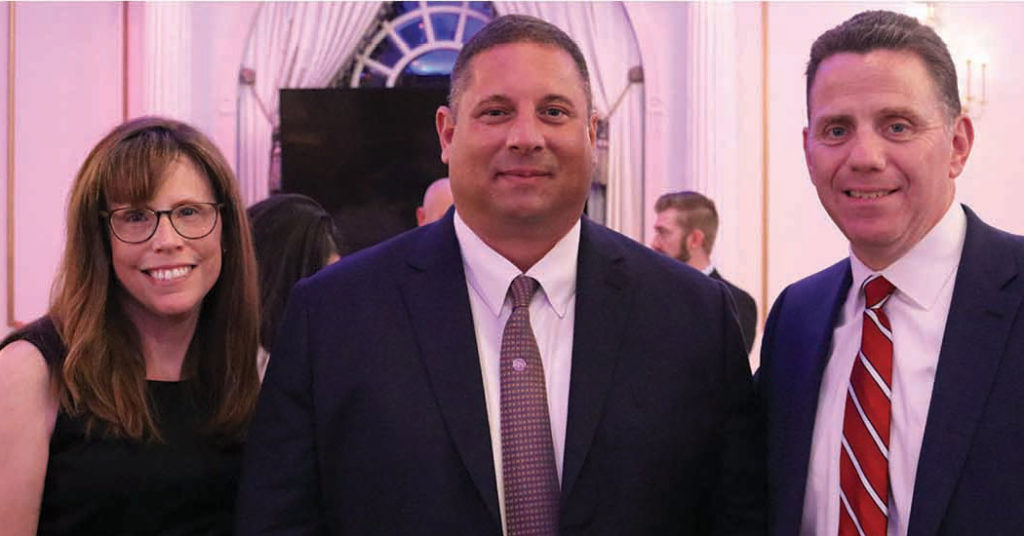 Mike Petillo (centre) with speakers Jo Ann and Matt Gittleman. The Gittlemans shared the story of their son, Joseph, who attends Pillar Elementary School.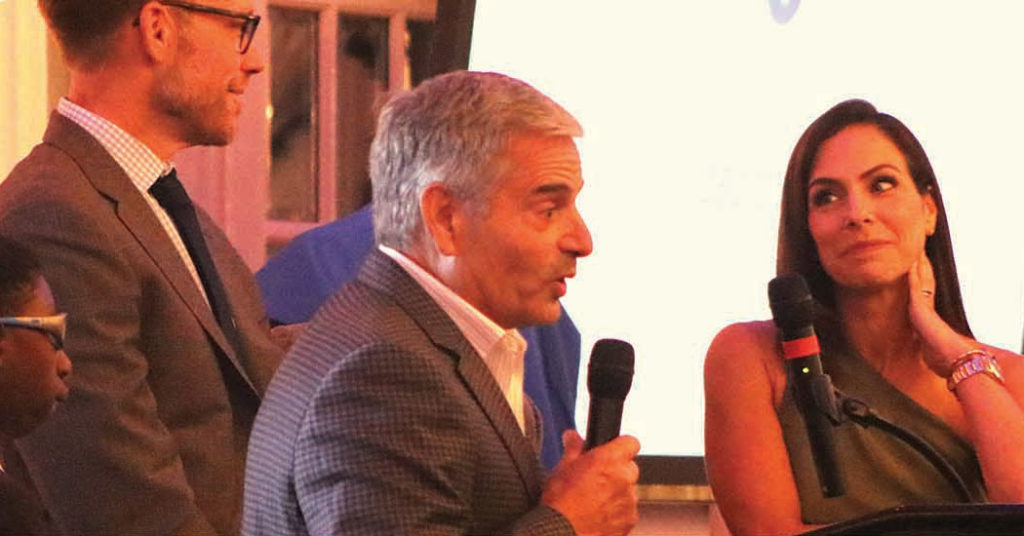 John Crimi led the text-for-a-cause segment of the program, raising $300,000 to support a range of projects.
Thank you to the members of The Steps to Independence Committee
EVENT CO-CHAIRS
Clark Machemer, Crow Holdings
Barry R. Mandelbaum, Mandelbaum Salsburg P.C.
Kelly Marx, Past President, CPNJ
Philip Monaco, Peerless Concrete Products Co.
Bob Murray, Alston Construction
Barry H. Ostrowsky, RWJ Barnabas Health
COMMITTEE MEMBERS
Alfred M. Anthony, Locks Law Firm
Darren Burns, Morristown-Beard School
Anne Burke, Burke Wellness Consulting
Richard Burrow, Langan
John Crimi, County Concrete Corp.
Bob Doerr, 3LLC
Joseph M. Forgione, Forgione Family Foundation
Michael D. Francis, Safety First Systems, LLC
Steven W. Katz, Sterling Properties
Brian W. Kronick, Kronick Resolutions
Wendy Marcus, CPNJ Board Member
Joe Marino, M & M Realty Partners
Jeff Milanaik, Bridge Development Partners
John Nietzel, Investors Bank
Nicholas Racioppi, Jr., Riker Danzig
Beth S. Rose, Sills Cummis & Gross PC
Andrew Rubenstein, Rubenstein Properties
William Rubenstein, Rubenstein Properties
Leslie E. Smith, Jr.
Dan Torrey, Northern Trust
Justin P. Walder, Pashman Stein Walder Hayden PC
Thank You to our major sponsors for helping to make this event such a success:
EVENT SPONSORS ($50,000+) 
3LLC 
Alston Construction 
GEMCO Constructors
Kennedy Excavating 
Petillo 
RWJ
Baranabas Health 
PATRONS ($35,000+) 
Kelly & Nancy Marx
Mccombs Steel 
Peerless Concrete 
LEADERS ($25,000+) 
Army & Roach 
Ascape Landscape and Construction Corp. 
Brent Material 
Dottie Litwin-Brief and Donald Brief 
Competitive Plumbing 
Crow Holdings 
Dauphinais Concrete, Inc.
Harrington Construction Huen Electric 
Lithko Contracting 
Clark & Michelle Machemer Wendy Marcus 
Renda Roads Inc. 
FOUNDERS ($15,000+) 
Capitol Supply Construction
County Concrete Corporation
Christopher Riccobono & Amy Parrillo 
Wicklow & Laurano
BENEFACTORS ($10,000+) 
RC Andersen
Bridge Development Partners Harrington Recycling
Hoer Excavating & Construction /Lakeside Construction
IBM
Kushner Companies
Mandelbaum Salsburg/Barry & Leslie Mandelbaum
Joe & Cheryl Marino
Meeker Sharkey Associates, LLC MRE Ventures LLC
Phelps Construction Group LLC Phoenix Tube Company
Sills Cummis & Gross
Strategic Wealth Advisory Group Tilcon New York
Triad Coatings
Underground Sprinkler Co
SPONSORS ($6,000+)
Brach Eichler
Burke Wellness
C&H Agency
Campbell Foundry Co. Carroccia Company, Inc. Investors Bank
Sandy & Helene Jaffe
Langan Engineering & Environmental Services National Account Service Corp. Pashman Stein Walder Hayden Peter Dorne AIA
Riker Danzig
Rockefeller Group
Sterling Properties
The Marvin Group
Top Line Construction Corp. Valley
Funds raised during the text-for-a-cause segment of the Steps to Independence Celebration will support the following projects:
Renovation of the Pillar Elementary School gym
New sensory integration room for our Wayne day program for adults
Furniture for our next two group homes
Virtual reality equipment for our day programs for adults
Smart boards for our school classrooms
Support for our therapeutic play group for infants and toddlers with special needs
Supplies for our art program for our Pillar Schools e
Support for our equine therapy for our elementary school students
Thanksgiving food baskets for our families in need
Headphones for iPads for our Pillar School students