Retaining Walls and Erosion Control Services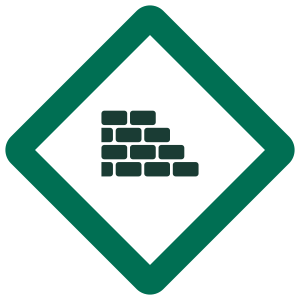 Erosion Control & Retaining Walls
If the extreme weather that has been seen in the northeast in the past decade is any indication, being unprepared for the inclement weather is worse in hindsight. It doesn't matter whether the property is public, private, commercial, or industrial. Improper water retention and control can cripple the infrastructure of any building, parking lot, or roadway. Suddenly those responsible are dealing with major setbacks that can cost several figures to fix.
As part of our overall services, Petillo can install retaining walls or erosion control for any commercial construction project undertaken. Our engineers and site contractors will assess the layout and installation of any system on a case-by-case basis, ensuring top level functional quality through and through.
Drainage Systems for Commercial Construction
By controlling water runoff on both hillsides and commercial lots, drainage systems help minimize property maintenance and maximize safety. Petillo has extensive experience in installing water drainage systems as part of our overall construction offerings. For more information about our services, check out our Water Management and Distribution services.
Erosion Mats
Choosing an erosion mat is wise for preventing erosion near roadways. This method of erosion control utilizes turf-reinforcement mats that are synthetic and non-degradable. Once buried under topsoil, they will help provide stability and lessen any soil shift caused by excessive weather systems.
Riprap Shoreline Control
Riprap is an attractive and effective method of erosion control against shoreline erosion. Typical natural rock riprap is comprised of coarse stones of random size. It will be placed both above and below the ordinary water level. Concrete is never used for riprap due to potential contamination. Due to the aesthetically pleasing nature of natural stone, it is an appealing option for both natural and man-made bodies of water.
Retaining Walls
Petillo designs its retaining walls for simultaneous function and aesthetics. At their core, a quality retaining wall will keep soil in its place and aid in keeping property level where necessary.
At one time, settling for a plain gray retaining wall made from concrete was the only option available. Today Petillo offers retaining wall designs in a myriad of colors, textures, shapes and sizes. Our team of engineers will expertly layout any retaining wall needs for your commercial, municipal, or industry-level project.
Heavy Construction Services in Your Area
Petillo designs and installs retaining walls and erosion control systems for the Northeastern United States. Contact us today to discuss any and all of your construction needs.